Thirty-two-year-old Angie Powell has always spoken her mind, but in the presence of Dare Callahan she nurses a simmering rage. Three years ago, Dare returned home to rural Montana and opened a hunting business to rival Angie's own, forcing her to close up shop. The infuriatingly attractive Iraq war vet even had the nerve to ask Angie out, not once but twice. Before Angie leaves town, she organizes one last trip into the wilderness with a client. But the adrenaline-fueled adventure turns deadly when Angie witnesses a cold-blooded murder and finds herself on the wrong side of a gun. Then a bear comes crashing through the woods—changing the dark game completely. Luckily, Dare is camping nearby and comes to her aid. Forced together for survival, Angie and Dare must confront hard feelings, a blinding storm, and a growing attraction—while a desperate killer and a ferocious five-hundred-pound beast stalk their prey.
I really had a good laugh while reading this book. Really! 
"He'd have to decide ahead of time if getting his hands on her ass was worth a knee in the balls. His dick twitched a Hell, yeah! Dare snorted again. Stupid fucker.. literally." – Dare Callahan
Tha's a small speech from Dare Callahan, one of the main character in the book. There is a lot of cussing in the book. But that's not what's making me laugh. It's about reading our black bear POVs. Yup! Our dear black bear has his own point of view so that we know what this beast is thinking.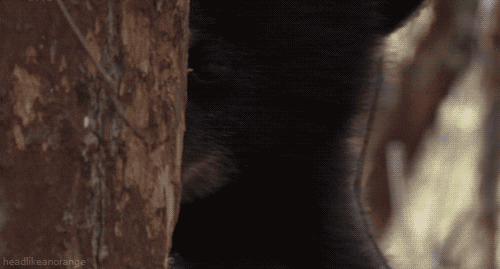 NO! That's too cute! The bear in the book is not cute at all. He kills with instinct. He kills for food. And he kills human. 
Angie is going to sell her place since her business is dropping and there's no way she can sustain such a big place. But she has one more business to do, to lead one of her return customer and his friend into the woods since they wanted to hunt a bear. But things don't go the way Angie thought and instead of escaping from the bear, she needs to avoid another hunter who's determined to kill her. 
SO the whole book is about how Angie and Dare survive in the woods avoiding the bear and the hunter. Especially when they don't have any way to call for help and no transport to get them out of the woods except their legs. 
It's funny to read about Dare's cussing and swearing when he's facing Angie. There's thrill involve when you imagine that you are the one out there and there are two hunters out there trying to hunt you. A human and a man-eating bear.